Every year, about 2.2lakh new patients of End-Stage Renal Disease (ESRD) get added in India resulting in additional demand for 3.4 Crore dialysis every year. The high cost of dialysis care leads to financial catastrophe for practically all families with such patients.
Towards this, Ministry of Health & Family Welfare launched the 'Pradhan Mantri National Dialysis Program' (PMNDP) under the National Health Mission in Public Private Partnership (PPP) mode in Union Budget 2016-17 at all the District Hospitals, to make renal-care services accessible & affordable to BPL (Below Poverty Line) patients.
The Pradhan Mantri National Dialysis Programme (PMNDP) was rolled out on 07th April 2016 as part of the National Health Mission (NHM) for the provision of free dialysis services to the poor. The programme has two components namely Hemodialysis (HD) services & Peritoneal dialysis (PD) services.
National Health mission supports establishment of dialysis centres (In-house & public private partnership/hybrid models) for HD service delivery as per the state/UT requirement. Hemodialysis Services under PMNDP is operational in Private Public Partnership (PPP) mode in 14 States/UTs, in-house mode in 16 States/UTS and hybrid mode in 6 States/UTs.
The PMNDP portal (IT platform) was launched on 05 May 22 by Hon'ble Union Minister of Health & Family Welfare Dr Mansukh Mandaviya at the 14th CCHFW Meeting. The portal will integrate all the dialysis centres operational in the state under NHM and facilitate building of renal registry and ensuring portability within the state (one state one dialysis) and later throughout the country (One Nation-One Dialysis).
ABHA number is a 14-digit number that will uniquely identify one as a participant in India's digital healthcare ecosystem. ABHA number will establish a strong and trustable identity for the dialysis patients that will be accepted by healthcare providers and payers across the country.
ABHA Address
ABHA (Ayushman Bharat Health Account) Address is a unique identifier (self-declared username) that enables you to share and access your health records digitally. Your ABHA address may look like 'yourname@consent manager'. For instance, xyz@abdm is a ABHA address with ABDM Consent Manager that will facilitate health data exchange for you with appropriate consent on the ABDM network
Benefits of ABHA Health ID card
Unique & Trustable Identity

Establish unique identity across different healthcare providers within the healthcare ecosystem

Unified Benefits

Link all healthcare benefits ranging from public health programmes to insurance schemes to the unique ABHA number

 Hassle-free Access

Avoid long lines for registration in healthcare facilities across the country

 Easy PHR Sign Up

Seamless sign up for PHR (Personal Health Records) applications such as ABDM ABHA application for Health data sharing
The ABHA number will be used for the purposes of uniquely identifying persons, authenticating them, and threading their health records (only with the informed consent of the patient) across multiple systems and stakeholders.
Link for creating ABHA-ID - https://healthid.ndhm.gov.in/
Health Facility Registry (HFR)
Vision
Aligning with the concept of 'One Nation-One Service' concept the One Nation-One Dialysis programme was conceived under NHM to facilitate dialysis services to needy patients anywhere in the country.
The dialysis patient can take the dialysis service in any dialysis centre throughout the country in case of availability of free slots.
Key Features of PMNDP portal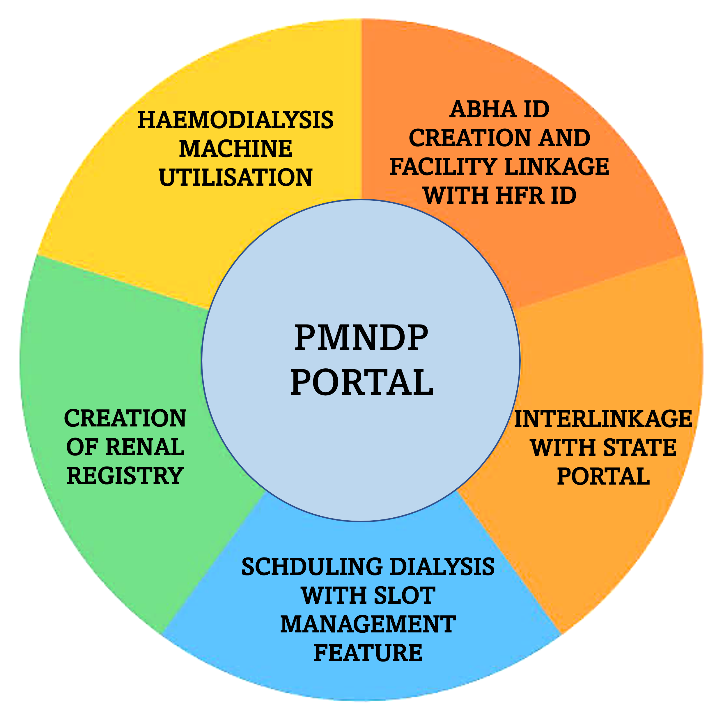 Goal
Health Facility Registry is a comprehensive repository of health facilities of the country across modern and traditional systems of medicine. It includes both public and private health facilities including hospitals, clinics, diagnostic laboratories and imaging centres, pharmacies, etc.
Registration will enable health facilities to get connected to India's digital health ecosystem and allow their listing on a national platform. This will instil trust in citizens seeking healthcare services by improving discovery of health facilities. Health facilities signing up will be able to gain access to a host of digital services.